| | |
| --- | --- |
| Blood and Sex Nightmare de Joseph R. Kolbek (2008) | 19 Octobre 2013 |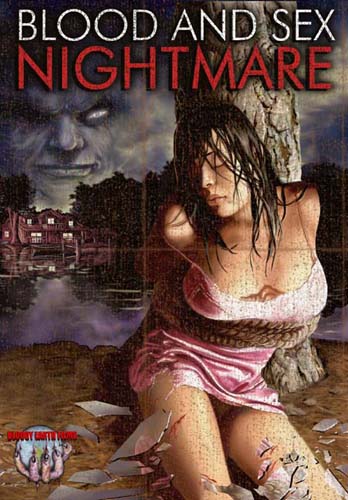 Un film horrible, ça vous dit ? Dans l'article précédant, nous vous parlions du lien entre films d'horreur et sexualité. Il est effectivement plus simple (et moins cher) d'aguicher les spectateurs à l'aide de quelques scènes gores et d'une ou deux demoiselles plus ou moins esthétiques à qui l'on demande d'enlever quelques habits. Un vrai scénario, de bons acteurs et des effets spéciaux réussis sont des éléments trop coûteux et tellement fatigants à réunir que certains choisissent la facilité et se lancent dans la réalisation de films comme Blood and Sex Nightmare, des films qui flirtent parfois plus avec le porno qu'avec l'horreur.
Nick est sérieusement en manque de sexe et ce n'est pas sa copine Amy qui lui apporte du soulagement vu qu'elle est vierge et visiblement décidée à le rester encore un moment. Mais Nick parvient malgré tout à la convaincre de partir en vacance dans un camp d'échangiste où les plans à trois sont légions. Heureusement (ou malheureusement, selon vos attentes), un tueur psychopathe vient donner un bon coup de pied dans ce bordel et en profiter pour tuer quelques brebis égarées.
Dans l'article de Happy House nous évoquions la signification de la pastille rouge, oscillant entre simple mauvais film et film culte. Et cette fois-ci, avec Blood ans Sex Nightmare, nous avons affaire à un potentiel film culte. Le scénario est absurde (quelle femme frigide et vierge accepterai de se rendre dans un camp échangiste (qui n'en est pas vraiment un, mais c'est plus simple à résumer ainsi), on est dans un film d'horreur d'accord, mais faut pas non plus exagérer !), les acteurs mauvais, les effets spéciaux se résument à des litres de sang et de faux pénis (et oui, il y a du niveau !), et, aveu ultime d'impuissance, le film ne dure que cinquante-neuf minutes.
Mais voilà, Blood and Sex Nightmare est tellement mauvais qu'il en devient instantanément drôle. Si vous avez la chance de tomber sur la même version originale sous-titrée en français que nous, vous pourrez profiter des traductions totalement aberrantes. Pour le reste, le film est débilement fun et se regarde très facilement entouré de quelques amis et de quelques substances plus ou moins illicites histoire de faire passer la pilule.
Arflane