| | |
| --- | --- |
| The Crazies de Breck Eisner (2010) | 10 Juillet 2010 |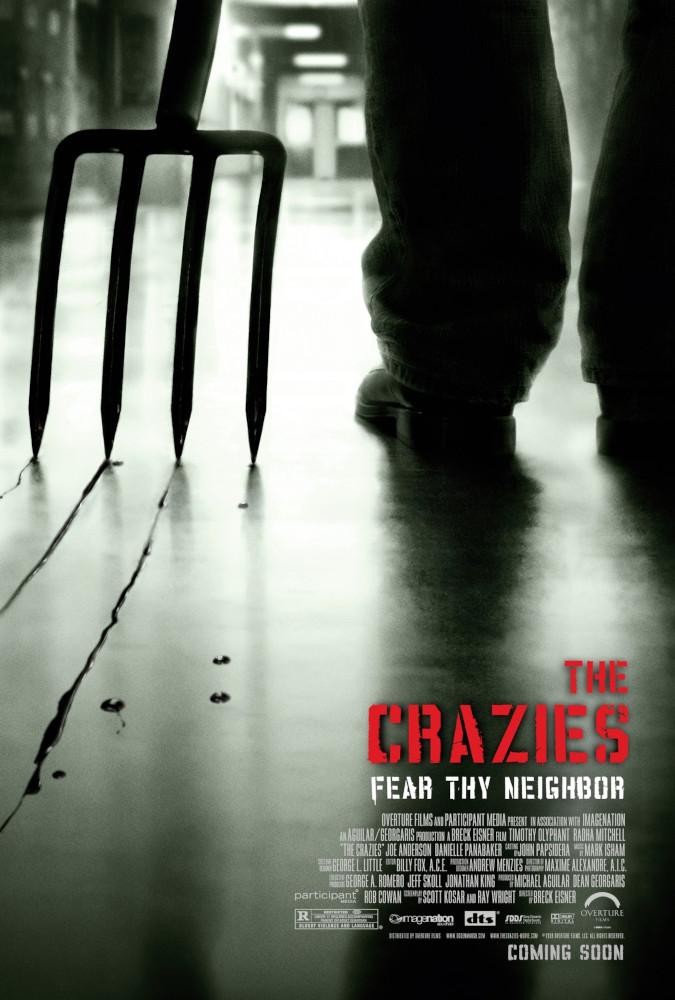 The Crazies 2010 V.S. The Crazies 1973
En bon fan de films d'horreur, je me suis une nouvelle fois vu dans l'obligation de regarder un "vieux" film suite à la sortie de son remake. L'original a été réalisé par George A. Romero, plus connu pour ses nombreux films de Zombie (les vrais, les lents). The Crazies n'est pas tombé bien loin de l'arbre, mettant en scène des humains infectés par un agent neurotoxique qui les pousse à agir de manière irationnelle. De faux zombies en quelque sorte.
Un petit village américain, contaminé accidentellement par une arme biologique de l'armée, voit ses habitants sombrer dans la folie ou tenter plus ou moins vainement de s'échapper pour survivre. Pour que le message socio-politique de Romero passe bien, le scénario s'échine à nous présenter le plus grand nombre possible de points de vue. Les habitants, les militaires, les politiciens, etc.
Une bonne trentaine d'année plus tard, un producteur en manque d'imagination, s'est dit qu'il serait intéressant de faire un remake de The Crazies (à moins que ce soit un scénariste en panne d'inspiration). Autre époque, autres préoccupations et autres moyens financiers, le remake se concentre sur une poignée de personnage et laisse les motivations des autres dans l'ombre. On suit ainsi, du début à la fin, le Shérif Dutton et sa femme qui tentent de survivre aux étranges évènements qui frappent leur petite communauté.
Comparer les deux films n'est finalement pas si évident que ça. La version de Romero est beaucoup plus lente, contient beaucoup plus de dialogues afin de présenter les points de vue des différents personnages principaux. Les scènes d'actions et les effets spéciaux sont évidemment d'une autre époque et rebuteront les plus jeunes, habitués à des impactes de balles et à du faux sang autrement plus convainquants.
Le Remake, en se concentrant sur moins de personnages, élude tout un pan de l'histoire. Et vu que les personnages essayent d'éviter aussi bien les infectés que l'armée, il ne se passe pas toujours grand chose. Reste que ce remake tient avant tout à de l'opportunisme de bas étage vu que le film d'origine n'est de loin pas le plus connu des films de Romero et ne nécessitait en aucun cas d'être sorti de l'oubli. Mais les acteurs sont meilleurs, les effets spéciaux incomparables et les prises de son n'ont pas été faites dans un hangar vide bourré d'écho (regardez l'original pour comprendre).
S'il ne faut en voir qu'un : le remake.
Arflane