| | |
| --- | --- |
| The Haunted School de Man Kei Chin (2007) | 17 Août 2011 |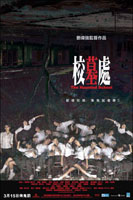 Inutile que je vous fasse un résumé du scénario de ce film vu que le titre est particulièrement explicite.
Je ne vous dirai donc pas qu'on y trouve quatre adolescents qui intègrent une école jusque là exclusivement composée de femmes et que leur présence va provoquer une série d'infractions au règlement. Que pour leur plus grand malheur, l'école est hantée par un fantôme très à cheval sur ce même règlement, et qu'il va personnellement s'employer à punir les contrevenants.
Scénario intéressant qui pourrait donner naissance à un film de qualité. Malheureusement une grosse dose d'humour chinois a été déversée dans la marmite et la sauce ne prend pas ! Les éléments horrifiques sont desservis par des effets spéciaux ... spéciaux et un sérieux manque d'originalité. L'intrigue manque également de profondeur (malgré une foultitude de personnages) et condamne la dernière demi-heure à une série de rebondissements aussi intéressants que drôles (et pour une comédie-horrifique c'est mauvais signe).
Mauvais film d'horreur chinois et piètre comédie, The Haunted School ne devrait pas figurer sur la grille horaire de l'année scolaire à venir.
Arflane