| | |
| --- | --- |
| Hitcher de Dave Meyers (2007) | 15 Juin 2009 |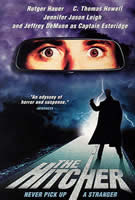 Hitcher VS. Hitcher
La mode des remakes me permet d'écrire des articles légèrement différents, mettant face à face l'original et le remake. D'autres articles du même genre suivront très probablement vu que Hollywood n'est pas à court de matière première.
The Hitcher de 1986 n'est pas considéré comme un film d'horreur. Il est classé dans les polars et a même gagné le Grand Prix du Festival du Film Policier de Cognac. Le remake, quant à lui, est clairement un film d'horreur, un de ceux qui s'acharnent tant bien que mal à nous faire sursauter.
L'original commence tout en douceur, nous présentant le personnage de Jim Halsey, un jeune homme traversant les Etats-Unis en voiture. Plans larges et lents sur les étendues désertiques qu'il traverse seul au volant de sa voiture, lutant pour ne pas s'endormir. Le tout accompagné d'une musique sombre et lancinante qui donne instantanément le ton. Le remake prend immédiatement le contre-pied de l'original avec un élément "choc" après quelques secondes de métrage seulement. Le message est clair, pas de temps à perdre avec une mise en situation. Une morceau rock se fait alors entendre, comme pour enfoncer encore un peu plus le clou.
Première différence majeure au niveau du scénario, Jim Halsey n'est plus seul ! Sa petite amie est de la partie et cela change complètement la donne du film. Dans l'original Jim est en tête à tête avec John Ryder (à quelques scènes près) et on assiste à un véritable duel. Leur relation évolue au fil des atrocités et Jim passe de la peau d'un adolescent hésitant, probablement peu populaire et célibataire, à celle d'un homme entreprenant et déjà marqué à vie. John Ryder est son nemesis, l'autre poids dans la balance qui donne tout son sens au film. Dans la version de 2007, John Ryder est l'élément extérieur au couple, le cheveu dans la soupe. Dans la version 2007, le personnage de Jim est certainement populaire, il conduit une voiture de sport et sort avec une belle jeune femme. Le jour et la nuit. Pour le reste, les scènes clés de l'original se retrouvent dans le remake. Le restoroute, le poste de police, le motel, etc.
John Ryder est interprété par Rutger Hauer dans la version de 1986. Un homme extrêmement mystérieux dont on n'apprend rien tout au long du film. Inquiétant dès sa première apparition, il semble jouer à un jeu dont lui seul connaît les règles. Sa relation avec Jim est ambiguë, passant du rôle de bourreau à celui de protecteur. Toujours sur ses talons, le forçant à avancer, le poussant à agir. John Ryder n'exprime aucune émotion, aucun remords. Il fait ce qu'il a à faire, rien de plus.
Sean Bean, dans la version de 2007, nous présente un John Ryder bien différent. Là où le personnage de 1986 n'affichait qu'un seul visage, celui d'un psychopathe, celui de 2007 ment, souris, séduit et souffre. Une palette d'émotions qui le rendent bien plus humain. Du statut d'être quasi surnaturel sorti de nulle part, il passe à celui du mec qui s'est levé du mauvais pied et a décidé d'emmerder le monde ! Bien moins percutant !
De légers changements à gauche et à droite qui font pourtant toute la différence. Un héros moins vulnérable, un méchant moins mystérieux, une ambiance sacrifiée au profit de plus nombreux sursauts, toute la différence entre un film culte et une film qu'on oublie sans regrets. Ce duel est remporté haut la main par la version originale. Moins spectaculaire, moins rythmée, mais tellement mieux réalisée !
Ce film constitue le premier long-métrage des deux réalisateurs. La carrière de Robert Harmon n'a jamais décollé et The Hitcher reste son oeuvre majeure. Quel sort attend Dave Meyers ?
S'il ne faut en voir qu'un ? L'original, sans l'ombre d'un doute !
Arflane