| | |
| --- | --- |
| Mother of Tears - la troisième mère de Dario Argento (2007) | 14 Octobre 2008 |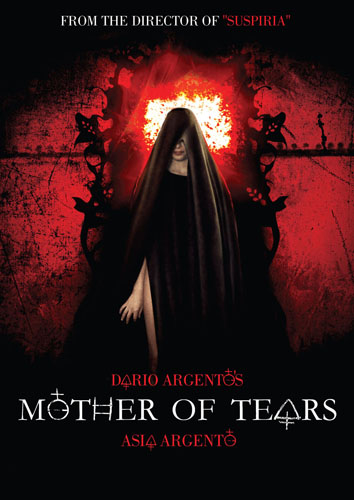 27 ans après Inferno, Dario Argento réalise enfin le dernier volet de sa trilogie des "Trois Mères". Les deux premiers volets (Suspiria et Inferno donc) n'étant séparés que de 3 années (1977 et 1980), ils sont particulièrement semblables, aussi bien en terme d'ambiance que visuellement, sans parler des effets spéciaux. Au moment de mettre Mother of Tears en chantier, la question de la continuité visuelle a probablement été soulevée et Argento a décidé qu'il fallait coller aux deux premiers films. Ainsi, si vous montrez ce film à un ami, en prétendant qu'il a été tourné en 1980, il vous croira sans problème !
Du coup, le film a les qualités de ses défauts et inversemment. Autant j'avais aimé les deux premiers lorsque je les avais vu adolescent dans la mesure où ils remplissaient leur fonction en matière de gore, d'horreur et de moments étranges, autant Mother of Tears déçoit l'adulte que je suis devenu (grand enfant quand même, je vous rassure) par son scénario bancal, son jeu d'acteur inexistant (pauvre Asia...) et ses moments parfois trop étranges (mais d'où sort ce singe !!!).
Impossible toutefois de ne pas apprécier malgré tout ce mauvais film tant il ramène de souvenirs à la surface et cloture (maladroitement) cette drôle de trilogie. A voir absolument ! (entre amis de préférence)
Arflane