| | |
| --- | --- |
| The Record de Jong-seok Kim, Gi-hun Kim (2000) | 20 Septembre 2011 |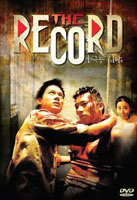 Ne vous êtes vous jamais demandé pourquoi les films d'horreur asiatiques n'étaient pas comme les films d'horreur américain ? Ne vous creusez plus les méninges, The Record est là pour vous apporter la réponse !
Trois ans après Souviens-toi l'été dernier, et sans en pomper le scénario, The Record nous parle d'un groupe d'étudiants ayant malencontreusement tué un de leur camarade de classe lors d'une mauvaise plaisanterie ayant particulièrement mal tourné. Quelque temps plus tard ils reçoivent d'étranges menaces et sont poursuivis par un tueur masqué fort désireux des les faire passer de vie à trépas.
Une fois n'est pas coutume, ce sont les coréens qui font un remake d'un film américain (rien d'officiel, juste très fortement inspiré). Malheureusement le succès n'est pas au rendez-vous et le film est soit un raisonnablement bon essai pour un groupe d'amateurs, soit un bon gros foutage de gueule pour une équipe professionnelle. Le tueur est affublé d'un costume le classant instantanément comme le plus pitoyable tueur de l'histoire du cinéma mondial et devrait se faire exploser à chacune de ses apparitions. La tension est inexistante et la stupidité des personnages n'a d'égale que la qualité des costumes et des décors. Donc mauvais film d'horreur mais plutôt bonne comédie involontaire ... ou non.
Arflane