| | |
| --- | --- |
| The Strangers de Bryan Bertino (2008) | 12 Octobre 2008 |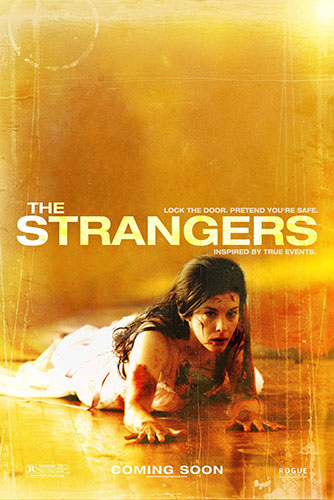 Alors que nous en sommes à notre quatorzième visionnage de la trilogie du Seigneur des Anneaux, nous tombons nez à nez avec un film d'horreur dans lequel joue Liv Tyler. Ne faisant ni une, ni deux, nous nous sommes jetés dessus et l'avons plongé dans notre lecteur DVD (un vieux format que vous ne connaissez probablement plus) dans l'espoir fou d'y croiser un ou deux elfes, des nains ou au moins quelques combats à l'épée.
James et Kristen passent une soirée très étrange. Tout avait bien commencé mais un petit accro est venu tout gâcher, les poussant à rentrer précipitamment chez eux. Ils se retrouvent alors dans la maison familiale de James où la soirée va prendre une tournure complètement inattendue lorsque des inconnus masqués débarquent et commencent à rôder autour de la maison.
Autant vous prévenir tout de suite, The Strangers ne contient en fait aucune créature fantastique, notre déception fut grande et nous ne tenons pas à ce que vous viviez la même expérience. Ce point primordial éclairé, nous pouvons désormais nous pencher sur le film et son contenu. Tout y commence plutôt bien avec des personnages apparemment plus approfondis que d'habitude et interprétés par deux acteurs ayant dépassé la puberté depuis belle lurette. L'entrée en matière est lente et atmosphérique, de quoi nous laisser espérer une situation tendue par la suite.
Et ce n'est pas complètement raté vu qu'une ambiance crispante s'installe bel et bien et que la survie des personnages est tout sauf assurée. Mais Bryan Bertino se fait alors rattraper par les limitations du genre qu'il a choisi (ou par l'intrigue qu'il a lui-même écrite), et tombe dans un rythme et des rebondissements lents et prévisibles. Peu de personnages, peu de décors et donc peu de possibilités d'emballer le rythme et de surprendre le spectateur. The Strangers n'est pas non plus un mauvais film, il se regarde plutôt facilement et devrait suffire à "faire peur" à certains d'entre nous, mais nous avons personnellement été un peu déçus par la deuxième moitié du film et plus encore par la chute qui nous a donné envie de crier : "Tout ça pour ça ?!".
Vu qu'il s'agit du premier long-métrage du Bryan Bertino il ne nous reste plus qu'à attendre son prochain film d'horreur pour critiquer son oeuvre avec plus de mordant. Il débute sa carrière dans Passion Horreur avec une pastille orange pour The Strangers, c'est toujours mieux qu'une rouge !
Arflane