| | |
| --- | --- |
| The Toolbox Murders de Tobe Hooper (2004) | 10 Juillet 2014 |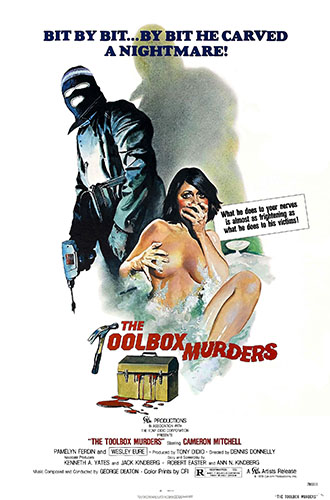 The Toolbox Murders 2004 VS. The Toolbox Murders 1978
Nos lecteurs du troisième âge ont été nombreux à nous écrire pour nous demander de nous pencher un peu sur de plus vieilles bobines. N'étant pas fans de films en noir et blanc, sans son, et où l'intégralité du casting est désormais six pieds sous terre, nous avons trouvé un moyen de ruser en vous proposant un nouveau comparatif. Au programme, The Toolbox Murders et son remake de 2004. Un long métrage bien ancré dans les années 70 et une réactualisation à la sauce "années 2000".
Dennis Donnelly, dont c'est l'unique long métrage (il n'a réalisé que des séries télé), face à Tobe Hooper, le réalisateur de Massacre à la Tronçonneuse, Poltergeist et Massacres dans le Train Fantôme.
Les films étant relativement différents, nous allons les aborder l'un après l'autre en commençant tout naturellement par la version de 1978.
Joey vit avec sa mère et sa soeur dans une résidence qui va être le théâtre d'une vague de crimes sanglants perpétrés à coups d'outils aussi mortels que variés. Il prend tout d'abord la situation à la légère, mais lorsque sa soeur Laurie disparaît, tout devient beaucoup plus sérieux. La police semblant quelque peu dépassée par la situation, Joey prend les choses en main et tente de trouver lui-même le coupable afin de sauver sa soeur.
The Toolbox Murders de 1978 est un film qui baigne dans son époque. Les tenus, les coupes de cheveux, la musique et surtout le style du film. Il s'apparente à d'autres pellicules comme La Dernière Maison sur la Gauche ou Maniac avec une intrigue relativement simpliste et surtout un réalisme très cru qui risque de choquer certains d'entre vous (certaines surtout). Le rythme est assez lent même si les victimes s'amoncellent durant la première moitié du film et l'intrigue bascule alors dans quelque chose de très différent et d'encore plus dérangeant. A défaut de nous divertir par son scénario tortueux et son suspens de fou, The Toolbox Murders saura malgré tout vous tenir en haleine efficacement.
Mais, contrairement à ce que pourrait laisser penser le paragraphe précédent, le film n'est pas vraiment bon. Les meurtres s'enchaînent tout d'abord avec des personnages extrêmement superficiels et sans que l'intrigue ne progresse. Et même si la deuxième partie est un peu meilleure, avec des personnages qui prennent enfin un peu de volume, mais il est un peu tard pour redresser la barre.
Penchons nous désormais sur le remake sorti en 2004 et réalisé par Tobe Hooper.
Nell et Steven viennent tout juste d'emménager dans une vieille résidence hollywoodienne et Nell constate avec dépit que l'immeuble n'est pas dans le meilleur des états. Son mari est souvent absent, ce qui lui laisse beaucoup de temps pour explorer les environs et apprendre à connaître certains de ses voisins. Mais elle ne se sent pas à l'aise dans ce nouvel environnement et va rapidement se rendre compte qu'il se passe des choses étranges autour d'elle.Certains locataires manquent à l'appel et Nell craint d'être la prochaine sur la liste.
The Toolbox Murders de 2004 s'intéresse beaucoup plus à ses personnages. Nous avons droit à un couple de héros d'entrée de jeu et toute l'intrigue va s'articuler autour de Nell et de ses agissements au sein de la résidence qui prend elle aussi une toute autre dimension. Le bâtiment possède désormais un passé mystérieux, une histoire et participe pleinement à la résolution de l'histoire. Les personnages sont plus intéressants, mieux interprétés et le scénario est bien plus conséquent et intéressant que celui du film original.
Le film n'obtient qu'un petit 5.3 sur IMDB alors qu'il mériterait certainement un peu mieux. Le remake est, pour une fois, nettement supérieur à l'original et mérite très largement le détour. Nous lui attribuons une belle pastille jaune (après avoir tout de même hésité un instant avec une petite pastille verte) et en viendrions presque à envisager de revoir Mortuary pour lui donner une deuxième chance. The Toolbox Murders de 1978 n'e reçoit qu'une pastille orange.
Arflane