| | |
| --- | --- |
| The Walking Dead (saison 2) (2011) | 17 Octobre 2016 |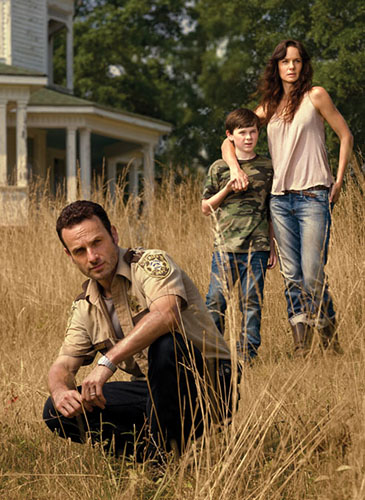 Nous voulions vous pondre un article sur la troisième saison de The Walking Dead et nous sommes alors rendu compte que nous n'avions pas encore parlé de la deuxième ! Une erreur que nous corrigeons donc immédiatement en vous pondant ce petit compte rendu plein d'anecdotes folles et intéressantes.
La première saison se terminait sur un cliffhanger assez classiques avec nos héros obligés de fuir à nouveau, et une information mystère susurrée à l'oreille de Rick Grimes, le personnage principal. Cette deuxième saison débute donc avec des personnages vulnérables, livrés à eux-mêmes (évidemment), et à la recherche d'un endroit sur où s'abriter et se reposer.
Inutile d'étendre plus loin le synopsis, nous n'allons tout de même pas vous dire qu'il y a plein de zombies partout et qu'il ne vaut mieux pas que les personnages se fassent mordre, voire même simplement griffer. Vous connaissez les règles, vous connaissez le genre, vous êtes là pour voir la suite des aventures des survivants de la première saison, et c'est donc de cela que nous allons tenter de parler sans rien en révéler pour autant. Les introductions ont été faites et la deuxième saison de The Walking Dead, cette fois composée de 13 épisodes (là où la première n'en avait que 6), ne tarde pas à lancer les hostilités et à nous plonger dans le feu de l'action. La saison apporte son lot de nouveaux personnages et, bien évidemment, son lot de morts parmi ceux qu'on avait déjà, mieux vaut ne pas trop s'attacher à certains d'entre eux.
Réparti sur 13 épisodes, le scénario n'est pas aussi intense que celui de la première saison qui était menée tambour battant. La saison vit ainsi un très léger creux au niveau du rythme (en tout cas si vous regardez un épisode par semaine en suivant la diffusion des épisodes sur une chaîne télé, cette saison peut vous sembler un peu longue et statique), mais parvient à explorer de nouvelles pistes narratives et à mettre les personnages dans une série de situations intéressantes et nouvelles permettant de les faire évoluer. Cette deuxième saison de The Walking Dead ne bénéficie plus de l'effet de surprise et doit être comparée à la "parfaite" première saison qui avait bousculé le monde des séries-télé à sa sortie. Une comparaison un peu biaisée par le changement de format, mais cette deuxième saison, même si elle se regarde très facilement et très agréablement, n'est pas tout à fait du niveau de la première.
The Walking Dead saison 2 ne passe toutefois pas loin d'une nouvelle pastille verte, mais ces quelques petits bémol nous poussent à lui en donner une jaune, ce qui, pour une deuxième saison de série télé, est plutôt signe de qualité et habituel pour les bonnes séries. Maintenant que nous vous avons parlé de la deuxième saison, nous allons enfin pouvoir nous pencher sur notre article consacré à la troisième. A bientôt pour la suite.
Arflane