| | |
| --- | --- |
| The Walking Dead (saison 3) (2012) | 31 Octobre 2016 |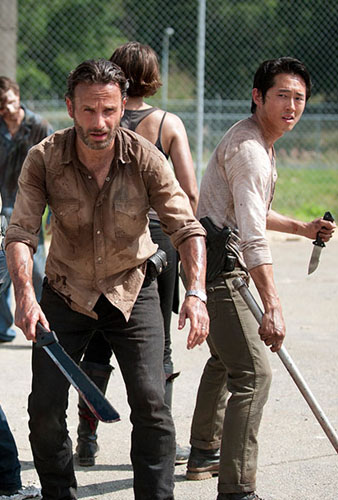 Nous ne nous laissons pas déborder par l'actualité bouillonnante qui nous pousserait plutôt vers la deuxième saison de Scream ou celle de Ash Vs Evil Dead, en restant accrochés à The Walking Dead et à cette troisième saison. Nous avions quitté nos amis survivants dans une situation semblable à celle clôturant la première saison, ils sont à nouveau en mouvement, à la recherche d'un lieu sûr où s'installer pour un temps et y survivre dans de raisonnables conditions.
On peut dès lors se demander si ce schéma va se répéter encore et encore à chaque nouvelle saison et si cette troisième saison va se dérouler comme la précédente. Les personnages errent quelque temps sans trop savoir où aller, tombent sur un abri satisfaisant, y vivent quelques temps en y rencontrant et solvant quelques problèmes provoquant des tensions au sein du groupe, avant de finalement reprendre la route parce que leur abri est soudain compromis. Après la ferme il nous faut peut-être nous attendre à un hôpital, une base militaire, une île au milieu de l'atlantique et pour la saison six un sous-marin échoué au large de San-Francisco ?
Nous ne vous dirons évidemment pas de quoi il retourne exactement dans cette troisième saison de The Walking Dead, mais le schéma dont nous parlons ci-dessus y est pratiquement appliqué à la lettre. Donc du point de vue de l'originalité du scénario nous ne pouvons pas lui accorder énormément de points, mais cela ne signifie pas pour autant que l'histoire est ennuyante et inintéressante. L'évolution des personnages s'y poursuit avec quelques rebondissements prévisibles et d'autres beaucoup moins, et la valse des protagonistes se poursuit comme il se doit dans une série post-apo. L'intrigue prend de plus en plus d'ampleur au fur et à mesure de la progression des épisodes jusqu'à un nouveau Climax de fin de saison.
Mais là où la deuxième saison souffrait déjà de quelques légères longueurs (même en enchaînant les épisodes), cette troisième saison ne parvient pas à éviter la chute de tension (seize épisodes, trois de plus que la deuxième saison, trois de trop ?) et les personnages tournent un peu en rond à faire des allers-retours un peu inutiles, histoire de tuer le temps. Cette baisse de tension ne concerne que quelques épisodes à la fin de la saison, avant le bouquet final, mais pour la première fois le spectateur semble être en droit de s'ennuyer quelque peu en regardant The Walking Dead et il nous faut le signaler. Cette troisième saison reçoit une nouvelle fois une pastille jaune, mais entre le côté un peu répétitif du déroulement de l'intrigue et cette légère chute d'intérêt dans la saison, nous voyons poindre un potentiel déclin de la série. La quatrième saison saura-t-elle relever ou au moins maintenir le niveau, ou sommes-nous d'ores et déjà condamnés à prévoir une première pastille orange ?
La suite au prochain épisode ...
Arflane