| | |
| --- | --- |
| The Walking Dead (saison 4) de Frank Darabont (2013) | 21 Novembre 2016 |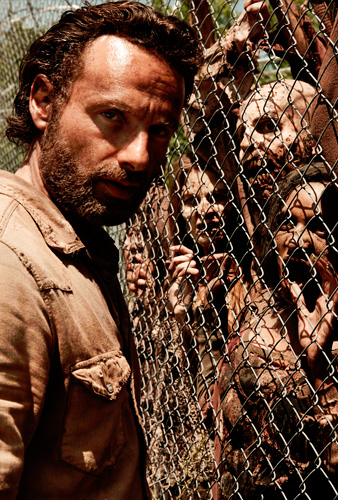 Nos craintes en débutant cette quatrième saison de The Walking Dead étaient vives et les premiers épisodes n'ont absolument rien fait pour nous rassurer. La troisième saison avait connu une chute de tension avant le final endiablé qui a évidemment retrouvé du rythme et du suspens. Notre principale crainte, comme formulée précédemment, était de voir la série tomber dans une routine, au fil des saisons, où les personnages changent simplement de lieu de résidence et sont confrontés à quelques nouveaux problèmes d'ordres pratiques. Cela avait été le cas dans la saison deux avec la maison isolée, puis la prison dans la saison trois. Et cette quatrième saison semblait prendre à peu près la même direction jusqu'au moment où ...
Nous ne pouvons évidemment pas vous en dire davantage sur l'intrigue de cette quatrième saison de The Walking Dead, mais là où la pastille jaune de la saison 3 était toute petite et s'approchait gentiment du orange, celle d'aujourd'hui se situe plutôt du côté du vert sans toutefois parvenir à l'atteindre. L'intrigue parvient à débloquer la situation en place pour se projeter dans des sentiers non balisés et proposer quelque chose de neuf aux spectateurs. Le plaisir de se retrouver en fin d'épisode avec une unique envie, enchaîner directement avec l'épisode suivant et découvrir ce qu'il advient des personnages et comment ils se sortent des épineux dilemmes dans lesquels ils se sont fourrés.
Inutile de nous étendre bien longtemps sur les qualités techniques de la saison, l'équipe créative est la même et ce sont toujours de bons acteurs, de bons effets spéciaux et de bons techniciens qui sont aux commandes. Tout au plus pourrions-nous nous arrêter quelques instants sur les nouveaux personnages découverts au fil des épisodes, mais cela ne ferait que dévoiler trop d'éléments et gâcher votre plaisir. Quelques personnages disparaissent, d'autres apparaissent, et le petit jeu de roulette russe se poursuit. Pour ne pas vous laisser croire que cette saison quatre de The Walking Dead est parfaite, soulignons quelques instants deux petits défauts. Tout d'abord les quelques premiers épisodes qui peinent à lancer la machine et nous laissent craindre un instant que la série se poursuive sur le même "faux rythme" que la précédente. L'autre défaut, qui n'en est pas encore réellement un, est un schéma scénaristique qui semble pointer le bout de son nez et qui menace de se répéter au fil des saisons prochaines.
Mais pour le moment nous pouvons simplement dire que la quatrième saison de The Walking Dead remonte la pente et nous laisse espérer une suite de série passionnante. Encore quelques saisons à nous mettre sous la dent avant de rattraper la diffusion "live", mais pas d'inquiétudes, d'autres séries horrifiques suivront et nous espérons en croiser d'aussi bonnes que celle-ci.
Arflane