| | |
| --- | --- |
| The Warning de Alexander Williams (2012) | 28 Décembre 2013 |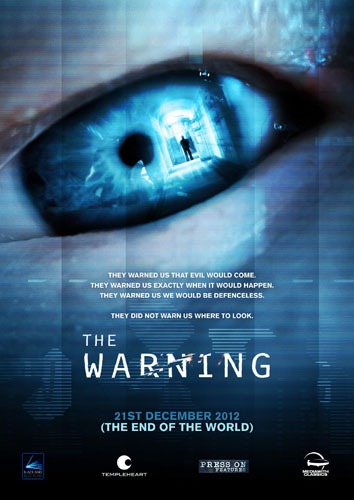 Totalement incompréhensible ! Tel est notre réaction à la fin de The Warning. Mais à qui la faute ? La première responsable est l'affiche du film que nous trouvons très réussie et qui donne, à tort, envie de voir le film. La faute ensuite au synopsis trouvé sur IMDB, qui semble nous parler d'un tout autre film, ou alors nous n'avons vraiment rien compris à The Warning, d'où notre entrée en matière. Et vu que la période est à la générosité et au partage, nous tentons de vous refiler la patate chaude. Alors tendez-vos mains et dites merci.
Voici le synopsis version Passion Horreur : Un bébé a disparu au sein d'un hôpital et une infirmière s'est défenestrée. :La police arrive sur les lieux et va essayer de comprendre ce qui s'est passé. Entre fouille des lieux, visionnage des vidéos de surveillance et interrogatoires, l'enquête va progresser petit à petit et dévoiler la nature surnaturelle de l'opposant qui ne cesse de leur glisser entre les doigts.
Quel rapport avec la prophétie maya dont parle IMDB ? Et pire encore, quel rapport avec le mystérieux DVD dont nous parle le texte introductif du film ? Alexander Williams, le réalisateur, semble avoir eu beaucoup d'idées et a tenté de toutes les placer dans un même film. Mais au moment du tournage, on ne lui a donné qu'un unique décor d'hôpital composé de quelques salles et couloirs et il n'a pas eu accès à un vieux mayas (les temples mayas contemporains étant hors de prix). C'est donc tout naturellement qu'il s'est tourné vers une mise en scène de type found footage. Mais histoire de donner un peu d'ampleur à son film, il n'a pas modifié son synopsis.
Car en pratique, The Warning est un mauvais found footage où le spectateur s'ennuie de manière colossale. Même Paranormal Activity est un film d'action à côté (plus de portes, de draps et de chaises qui bougent !). L'enquête de The Warning stagne, les personnages semblent avoir élu domicile dans cet hôpital dans lequel il ne se passe rien (ou presque). Ils voient apparaître et disparaître une silhouette sur des vidéos et n'y voit rien de louche. Ils interrogent en boucle les mêmes témoins et même s'ils font quelques découvertes, cela ne suffit de loin pas à nous tenir éveillé.
Nouvelle belle et grosse arnaque made in found footage, The Warning n'a rien à raconter et ne semble pas s'en préoccuper. Et ce ne sont pas les quelques phrases mystérieuses au début et à la fin, et qui n'ont aucun rapport avec le film, qui y changent quoi que ce soit.
Arflane