| | |
| --- | --- |
| The Wicker Man de Neil LaBute (2006) | 01 Juillet 2012 |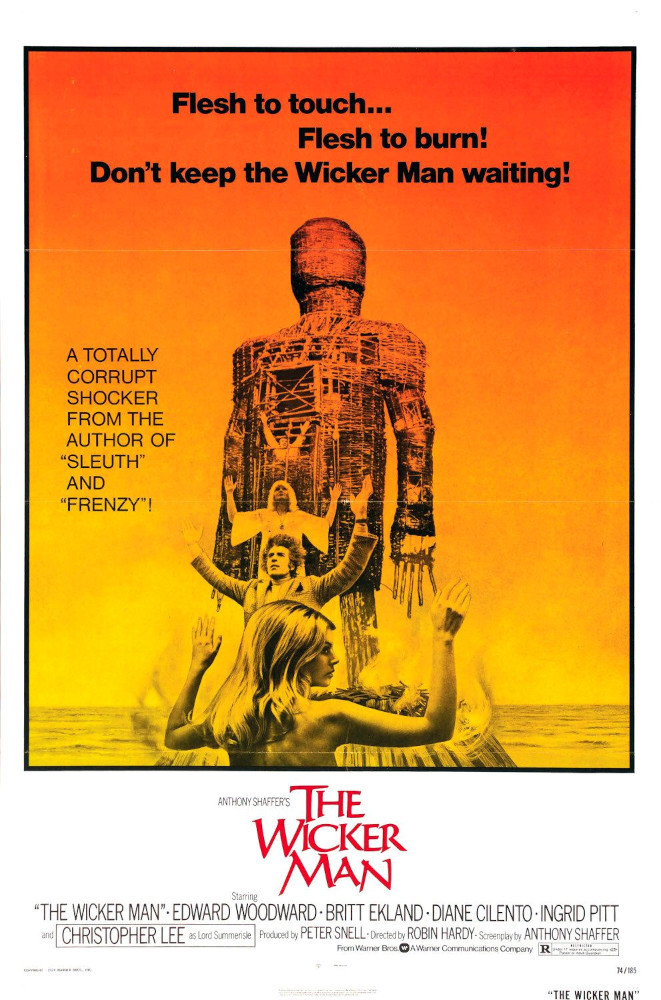 Cela fait plus de six mois que je n'avais pondu d'article comparatif sur ce blog. Injustice corrigée avec ce duel fratricide entre deux hommes d'osier ! La pastille ci-dessus concerne la version de 2006.
The Wicker Man 2006 VS. The Wicker Man 1973
Les deux films ont une base scénaristique commune (comme c'est souvent le cas dans les remakes, je vous le concède). Edward Malus est policer et reçoit une lettre lui signalant la disparition d'une jeune fille vivant sur une île. Edward décide d'y aller et de mener son enquête dans l'espoir de retrouver la disparue. Sur place il découvre une communauté étrange vivant selon des préceptes qui ne sont pas les siens et qu'il va avoir un peu de peine à comprendre.
La version originale brille d'entrée de jeu par la finesse de son propos. Les personnages sont extrêmement caricaturaux. Le Edward Malus de 1973 est un fervent catholique avec des idées bien arrêtées sur le bien, le mal et surtout la morale. Et cette communauté hippie ne lui plaît pas. Dans la version de 2006 les points de vue sont un peu plus contrastés. Edward Malus est probablement toujours chrétien, mais ses motivations pour aller sur l'île ne sont plus les mêmes. La lettre qu'il reçoit provient de son ex fiancée qui avait disparu de sa vie du jour au lendemain.
L'original semble très fortement inspiré par le mouvement hippie des années 60, avec des habitants passant le plus clair de leur temps à chanter (film ou succession de clips ?) dans des états à la limite de la transe que l'infusion du soir n'a probablement pas provoquée toute seule. Trente-trois ans plus tard, les chansons ont disparues et se voient remplacées par des rebondissements pas toujours passionnants. Edward, allergique aux abeilles, a la bonne idée de se frotter à une ruche. Et surtout il revit sans cesse un évènement traumatique vécu au début du film, comme si la disparition du moment ne lui suffisait pas.
Au niveau de l'interprétation et de la réalisation, les deux films sont évidemment très différents. L'original a pour lui son ancrage dans une période bien particulière qui fera sourire les plus nostalgiques d'entre vous et rire les plus jeunes que les coupes de cheveux et tenues vestimentaires feront grimacer. Pas vraiment d'éléments horrifique à se mettre sous la dent d'un côté comme de l'autre, même si l'original ne prétend d'ailleurs pas être un film d'horreur, il officie plutôt dans le domaine du mystère et du thriller. Son remake, quant à lui, tente de s'immicer légèrement dans l'horreur sans décoller beaucoup plus haut qu'un téléfilm de M6.
Les deux films sont finalement plutôt moyens. Le premier possède un côté plus "culte" grâce aux chansons, tenues, coupes et à la "naïveté" de l'ensemble. Le remake n'attirera que les fans de Nicolas Cage vu qu'il y incarne Edward Malus avec plus ou moins de succès.
Les deux films obtiennent une pastille orange et ce n'est pas la perruque de Christopher Lee qui va me faire changer d'avis !
Arflane